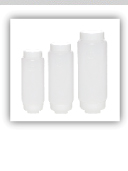 Complete FIFO Bottle Sets
Available in 12, 16, 20, 24 or 32 oz sizes with a multi-purpose dispensing cap and a label cap.
Fast Dispensing, Easy to Clean and Fill.
The FIFO bottle dispenses from the bottom through a non-drip silicone valve and fills from the top.
Proper Food Rotation: The sauce that was the first in is the first out.
The FIFO multi-purpose valve can dispense product ranging in viscosity from water to caramel, with particles up to 1/8 inch.